Broader markets, as measured by the S&P 500 index have weathered the volatile start of May and notched a +0.7% gain as of May 10.   In contrast a broad basket of commodities [DJP] have fallen by 6.5% this month and now are  virtually breakeven for the year with a +.41% return (Bloomberg).
Clean energy funds are behaving like commodities in May.  As shown below, our indices are all down similar to commodities with only 5 stocks out of a total 70 stocks showing gains.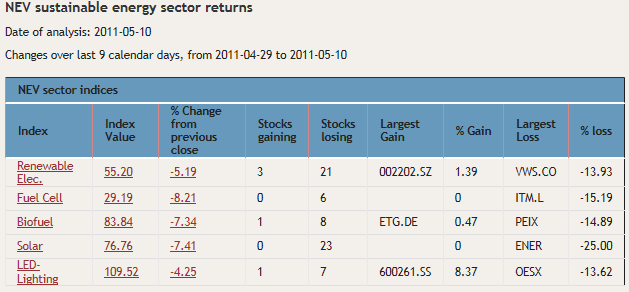 I've been watching Energy Conversion's slide for a while so their appearance in the "Largest Loss" column for Solar caught my eye.   Unfortunately a 71% Q1 sales decline and a CEO departure  are patterns I've seen too often in the last few years.  I track coverage terminations now and ENER is inching closer to that joining that group.   Other solar stocks with a lot of European exposure could also bear watching.